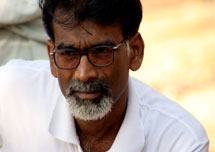 During the tenure of teaching English and Personality Development he started doing some translation work for novels and essays. Then he started his career in filmdom as a screen writer in 1987 and wrote screenplay of Bengali feature film, Sangharsha(1987). Then in 1989 he directed his first film Prashna(Bengali) on his own screenplay. Later, he wrote and directed a hindi film, Aasakti(1999).
Then after a long suffering that'd followed his father's death in 2004, personality developer of thousands throughout the country started his career anew on his own screenplay of EGO THAT DIFFERS in March,2010 based on the short story 'Postmaster' by
Rabindranath Tagore
, the Nobel Prize winner for literature in 1913, which won awards in the categories of Best Film, Best Direction, Best Screenplay and Best Production.
I thought I'd give up. Then I realized, giving up is not the solution.